Stacked Column Chart with Custom Legend Placement for Power BI
This visual is created from advance visual Dual Y-Axis Combo Chart
Steps to create Stacked Column Chart with Custom Legend Placement from Dual Y-Axis Combo Chart
Step 1. Map your data in the fields available
Here 'Country' is mapped under Category. 'Sales' is mapped under Value 1 and 'Discount Band' under Legend.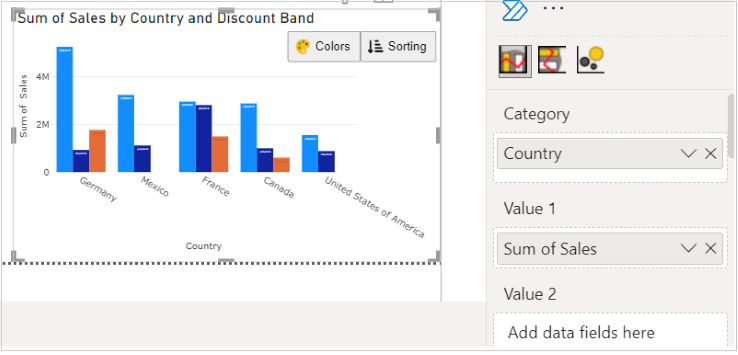 Step 2. Enable Stack bars option
Go to Format Visual tab. Under Chart section, enable Stack bars option

Step 3. Choose Legend position
Under Legend section, enable this section by toggling the button to 'On'. Once you enable Legend, you will get options to format the legend.
In 'Position' you can choose where you want to show your legend in the chart, from drop-down.
e.g. - We have selected Center right position for the chart.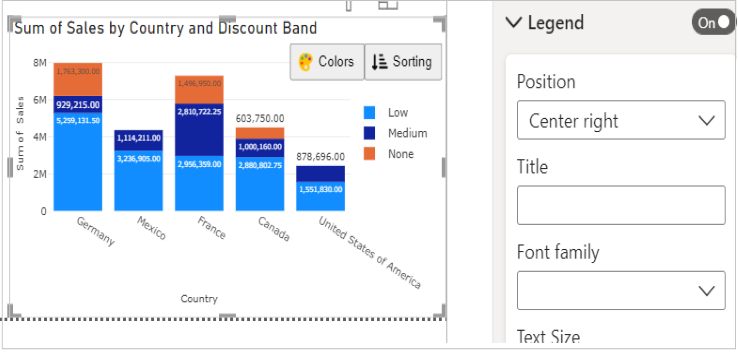 Step 4. Format your visual further
You can further format your visual like color, size, opacity of your series, labels etc under the same tab 'Format Visual'.